FT 113 Performance Test Capability Now Available to Support the Wireless Device Ecosystem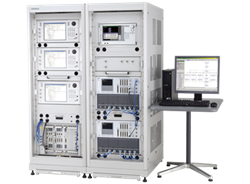 Richardson, TX – January 5, 2016
Anritsu Company and PCTEST Engineering Laboratory, Inc. announce that PCTEST has acquired LTE data throughput test capability for the Anritsu ME7834L Mobile Device Test Platform (MDTP). RFT 113 data throughput tests installed on the ME7834L include both static and dynamic fading configurations across multiple LTE bands, with more than 60% of the test cases verified by PTCRB. Initial static tests were approved for release in September 2015, as the dynamic fading tests in RFT 113 are forecast to accelerate in early 2016 with their expected addition to the PTCRB certification requirements.
"As a PTCRB Accredited Test Lab, PCTEST has elevated its device performance testing capabilities by partnering with Anritsu and utilizing the ME7834L to conduct LTE Data Throughput test cases defined in the PTCRB RFT113," said Randy Ortanez, President and Owner of PCTEST Engineering Laboratory. "Data throughput is a critical feature for users in today's wireless networks, and we are pleased to offer manufacturers the opportunity to conduct device testing to verify the data throughput performance of new devices prior to their market introduction."
"Anritsu is pleased to partner with PCTEST to support the industry's LTE data throughput testing needs," said Paul Innis, Vice President and General Manager of Anritsu Company. "PCTEST recognizes that Anritsu has been a leader in the rollout of the newest LTE categories with ever-increasing data rates. Anritsu will continue to introduce a wide range of wireless test solutions as part of our commitment to meet the needs of the wireless device ecosystem."
The ME7834L MDTP is a scalable GCF, PTCRB, and carrier-validated test system that enables certification of LTE devices to industry and carrier standards. The ME7834L provides test coverage for 3GPP 36.523 and 37.901, as well as a wide portfolio of CAT test plans, including leading eMBMS coverage for a large North American operator. The ME7834L, as well as sister test platform ME7834LA, provide industry-leading LTE-Advanced coverage, including 2CA and 3CA test cases for both inter- and intra-band CA with MIMO.
About PCTEST Engineering Laboratory
PCTEST Lab is a leading independent test laboratory offering one-stop conformance, performance, and regulatory testing of wireless devices in accordance with industry and 3GPP/3GPP2 technical requirements, including RF, Protocol, RRM, Carrier Aggregation (CA) and carrier-specific test plans. PCTEST Lab is an approved CA & VoLTE Lab, LTE/CDMA Safe-For-Network (SFN) Lab, an Open Development Lab, an OTA Antenna Performance Lab, as well as an A-GPS test facility for major U.S. carriers including GCF and PTCRB certifications. For more information regarding PCTEST Lab's test services, visit www.pctestlab.com.
About Anritsu
Anritsu Company is the United States subsidiary of Anritsu Corporation, a global provider of innovative communications test and measurement solutions for 120 years. Anritsu's "2020 VISION" philosophy engages customers as true partners to help develop wireless, optical, microwave/RF, and digital instruments, as well as operation support systems for R&D, manufacturing, installation, and maintenance applications. Anritsu also provides precision microwave/RF components, optical devices, and high-speed electrical devices for communication products and systems. The company develops advanced solutions for 5G, M2M, IoT, as well as other emerging and legacy wireline and wireless communication markets. With offices throughout the world, Anritsu has approximately 4,000 employees in over 90 countries.
To learn more visit www.anritsu.com and follow Anritsu on Facebook, Google+, LinkedIn, Twitter, and YouTube.